Brochure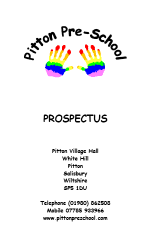 Welcome to Pitton Pre-School
We believe that children learn well and most effectively when they are happy, deeply engaged and having fun. We encourage the children to actively participate in their own learning and foster an atmosphere where they want to explore and learn more. We actively encourage positive relationships where children have high levels of self-esteem and self-confidence, developing care and respect for themselves, others and their environment.
We recognise that parents are the primary educator's of children in their early years and believe that it is important that parents are partners in their child's learning and development at pre-school.
The brochure descibes our approach and gives information about our day, activities and opportunities. It can be viewed or downloaded as a PDF document by clicking on the image above.
We can take children from 2 years old.
We are open;
8:00am – 3:00 pm Monday, Tuesday, Wednesday and Thursday
and 8:00am – 1:00pm Friday
during Wiltshire Term Times, and offer varying drop off and pick-up times within the opening hours.


---